Notre sabre le plus simple mais aussi le plus robuste et le plus utilisés en club. le SKOLR est une arme officielle de la Académie de Sabre Laser de la Fédération Française d'Escrime.
Excessivement pratique et facile à entretenir, il ne vous laissera jamais tomber !
Le sabre est vendu complet avec sa lame, sa batterie et un kit de vissage.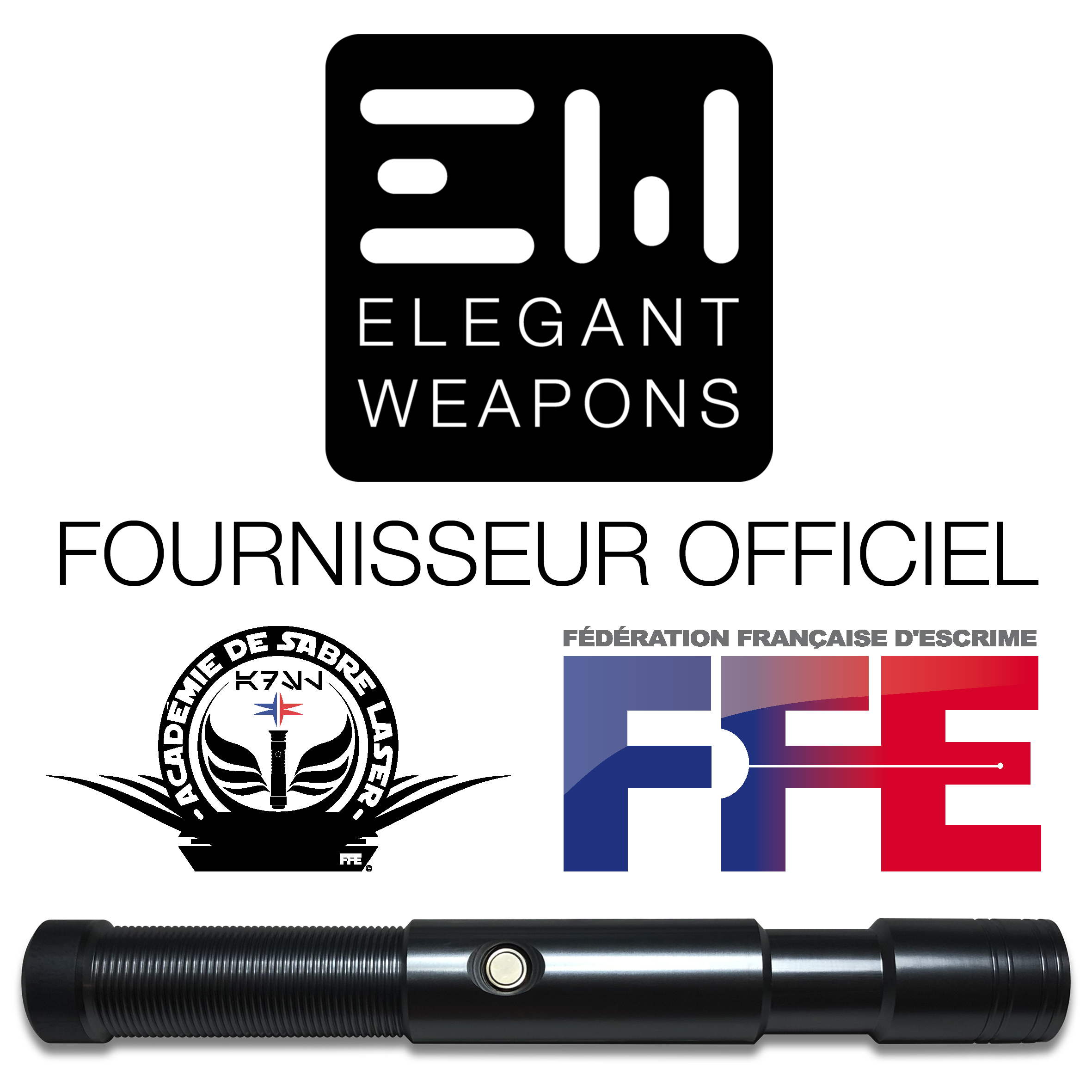 Our most simple but extremely reliable saber, used in almost every club/school. The SKOLR is one of the official saber endorsed by the « Académie de Sabre Laser » of the French Fencing Féderation (FFE).
Really easy to handle, even more to maintain and support, he will never let you down !
Sold complete with blade, battery and screwing kit.
sur le terrain / field used
retours en SAV / serviced units
Manche
en aluminium tourné et anodisé en France. Disponible en deux coloris :
deux emplacement pour des vis de maintient de lames (vis M4 fournies).
Hilt
in aluminium made and anodised in France. Available in two colors :
with two screw holes to maintain the blade in place (M4 screws given).
Lame
au choix parmi nos modèles 60, 80 ou 90 cm en heavy ou mid, mais aussi avec d'autres fournisseurs.
Nos lames sont faites mains. Elle sont fabriquées à partir d'une formule de polycarbonate spécaliement choisie pour sa durablité et tolérance aux efforts. Les capuchons eux aussi sont en polycarbonates, vissés et collés dans les lames. Plusieurs longueur de films de polypropylene complete l'intérieur de la lame pour assurer une diffusion de lumière sans pareil.
Blade
any among our models (30, 32, 36 inch) mid or heavy but compatible with other brand too. 
Our blades are hand made. From a specific polycarbonate compound to ensure maximum efficiency and durability. The tips are in polycarbonate too, screwed and glued to blade. Inside several length of a really thin polypropylene sheets ensure a gorgeous light.
Couleur
Au choix parmi nos couleur de base : Rouge, bleu ou vert. Mais d'autres couleurs sont disponible en achat séparé. Grace à nos kit led à attache rapide, changez de couleur facilement !
Blade Color
Choose between our basic colors : red, green or blue. But you can get other color using separate led kits form the shop. Change them easily with the quick attach/dettach connectors !